How much does it cost to make a wedding cake?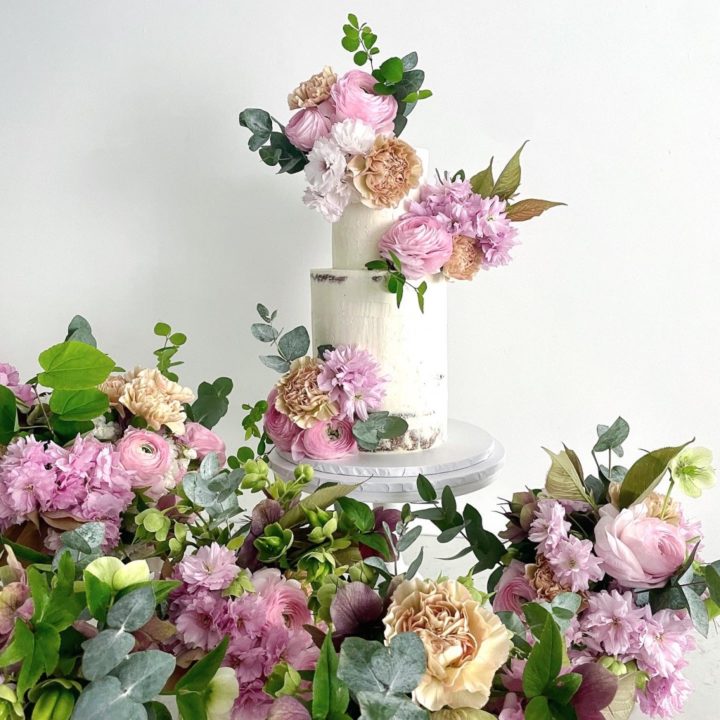 This blog aims to give my wonderful customers and potential customers some insight into the true cost of making your beautiful one of a kind wedding cake…
Firstly, I do appreciate that weddings are costly and sometimes the price tag on your wedding can seem high. It can be hard to figure out the true cost of a bespoke wedding cake, especially when you are comparing the custom made items with generic or store bought products. In this blog I aim to tackle every element of the bespoke wedding cake process from consulting, research, booking, design, baking, decorating and delivery to highlight where the costs lie so that you can understand the value of your one of a kind, bespoke purchase.
High expectations:
There is a certain expectation of exceptional quality in every aspect of a wedding, and there certainly should be! Every single element and detail of the big day is hugely important and all of those details need to be just so. Quality, consistency and a beautifully made, artisan, wedding cake is paramount. Generally, for weddings, expectations are high and all of your suppliers will work tirelessly to make and deliver the best that they can offer.
Bespoke items made especially for you:
Whether it is a custom made wedding gown, florals chosen and arranged to reflect your wedding aesthetic, or a bespoke wedding cake made to your specifications, weddings are a once in a lifetime experience that should reflect your personality and style. A significant part of the cost of your wedding cake booking is your consultation, the research and final cake design.
Wedding Cake Consultations:
I usually get the basic information from you upon enquiry before we have a wedding cake phone consultation. This is so that I can get to know you as a couple. I can then find out a little more about your style, aesthetic, dreams for the day. This can give me an indication of what is important to you in your wedding cake. For example; are you super laid back but want a cake with intricate flavours? Or, maybe, you are you interested in a show stopping wedding cake with a classic flavour throughout. Sometimes one half of the couple has contradictory ideas to the other, and it is my job to find that perfect compromise and design a wedding cake that will suit them both. A skill in itself!
Research and Cake Design:
Once I have a little more information about you and your day I will do some research based on the information I have gleaned from our initial consultation. I then summarise everything we have spoken about in an email along with example images and wedding cake design ideas. Once we have agreed the design, I send over a comprehensive quote with breakdown of the cost of your wedding cake, with all of the details itemised for you to consider. We can then, usually, get the booking secured with a small deposit to save the date. I then make up a full order form and cake contract with all of the details of your wedding cake order.
This is all before turning on the oven…
Paying for your baker's time:
The biggest expense for your wedding cake will be your cake makers time. It takes roughly a full week to consult, plan and research, design, bake, decorate and deliver a simple three tier wedding cake. Sometimes decorations need to be ordered and prepared days or even weeks, or months ahead of time in order to dry or set (in the case of rice paper sails). Sugar crystals for geode cakes can take 6 weeks to form!
In fact, it is my opinion that, most wedding cake makers underestimate the cost of running a business. The industry in general undercharges for the amount of time, skill and materials it takes to fully realise a beautifully designed and constructed wedding cake. This is often because we can't stop once we get started on a project. But we love what we do, so it is worth it!
Delivery:
I personally offer a professional delivery service all around East Sussex and beyond. I also have a vehicle just for delivering wedding cakes and a special catering fridge box for deliveries on those hot Summer days. This delivery cost is calculated along with your wedding cake invoice and added separately on your quote breakdown.
Delivery includes:
Liaison with the venue manager or wedding planner to arrange the perfect time to deliver and set up the cake on the day. This is based on the timings of the ceremony or reception and/or the storage facilities of the venue.
If necessary I will help to set up the whole display of the cake ready for the cake cutting ceremony and photo opportunities.
All the allergen and cake cutting information is printed and delivered with the cake and handed over to the relevant people so that the cake can be cut and served correctly based on the number of guests at the reception.
Cakes with more than 3 tiers are delivered separately and stacked on site then any decorations and touch ups are added.
All this is confirmed with the venue so that you can relax in the knowledge that your cake will be delivered and set up without a hitch and you can concentrate on getting ready for your big day.
Budget:
I am always happy to discuss the cake options for any size or budget. If you have a modest budget and are planning an intimate wedding there are options for you to have an elegant and delicious cake. However, if you are planing an elaborate affair for hundreds of guests, and are looking for an intricate design with expensive materials to match, then you may have to adjust either your budget or expectations accordingly.
As professional cake makers we need to think about all of the factors that affect the cost of making a wedding cake. To make sure that we have a sustainable business that will continue to be viable year to year. The cost of your cake is not arrived at randomly. It is a careful calculation of the time it takes to design, bake, construct, decorate and deliver a wedding cake, along with the skills and materials used. There are also basic costs of running a business that will be sustainable enough to survive year upon year.
Side note on sustainability:
I use sustainable here to mean a business that can continue to be viable year to year. To warrant the time and work involved, and to pay the cake maker fairly for their time whilst surviving financially. All of this is before considering "sustainability" in terms of going the extra mile for the environment, sourcing ingredients responsibly and being involved in carbon offsetting schemes so that our impact on the environment is lessened.
Below are some of the costs of running a wedding cake business. These are often overlooked when considering what is a fair price for a bespoke, custom made cake design:
Ingredients and Materials = at least 30-40% of the wedding cake cost
Organic ingredients where possible
Local ingredients where possible
Seasonal Ingredients where possible
Floristry flowers or edible flowers (organic where possible)
Best materials – recyclable and/or biodegradable where possible
Packaging costs
Tools
Equipment depreciation
Catering equipment (fridge/mixers/blenders)
Fridge box – cool storage for delivering wedding cakes, essential in Summer months
Display items e.g cake stands and display materials
Running costs = At least 30% of the wedding cake cost
Rent
Bills
Vehicle costs
Vehicle maintenance
Tools and equipment
Depreciation on equipment and vehicles
Maintenance
Hire cost
Storage costs
Business insurance and Public Liability Insurance
Accounting fees
Website maintenance and website design fees
Advertising and marketing (social media, blog posts, SEO, Google Ads etc)
Training cost; keeping food hygiene certificates up to date and taking business and cake decorating courses and classes to improve skills
Taxes; don't forget, unless your baker adds VAT on top of your quote, they will pay 20% of your final quote in taxes.
Wages based on experience:
I have over 9 years experience baking professionally and 5 years in the wedding cake industry. This gives me the skills and experience to know what you need to consider for making your cake. Some of these include:
The venue and it's facilities, the storage needs
Training on keeping up to date on laws on allergens and cross contamination
Your baker knows how to construct a stable cake that will hold up on display during the whole reception
They can calculate the cake size for the correct number of servings for your event and number of guests
Your baker will advise caterers on how to cut the cake to get the correct number of servings
Training – to keep up to date with latest trends and techniques
Marketing skills
Social media marketing skills
Website design and upkeep and general SEO
Delivery – Wedding cake delivery is a skill in itself, to make sure the cake arrives safely at the venue
Set-up – cakes with 4 or more tiers are set up at the venue with special tools and equipment
Therefore, for example, if your wedding cake cost is £600 then a rough calculation is as follows:
£600 roughly the base price for a wedding cake for 90 guests:
20% VAT – £120 = £480 (price of cake after VAT)
35% of £480 = £168 (materials and ingredients)
30% of £480 = £144 (running costs)
£168 for wages and profits to invest back into the business *it takes roughly 3-4 days to plan, design and make a 3 tier wedding cake
One of a kind, custom made cakes take days to make and deliver
Because each custom made wedding cake can take days, sometimes weeks, of preparation and there are only so many days in a week there is a limit to the amount of orders I take per week or month. My maximum capacity each week is two smaller wedding cakes or one large wedding cake with 4 plus tiers. This is because I want to give ample time to each order so that I know that all of the details are perfected.
Also, most weddings are on a Saturday and require personal delivery and set up at the venue. This limits the number of orders that can be taken and delivered each week as each delivery takes between 2 – 5 hours depending on the distance from my kitchen and the intricacy of the set up.
So, you may be comparing the cost of your wedding cake to a bakery or supermarket that can churn out orders quickly, but there really is no true comparison.
My only advice would be to trust that your wedding cake maker is not trying to overcharge or get you to overspend. They are simply trying to run their independent business so that it is viable year upon year. Most cake makers will work tirelessly to give you options to suit your budget. I have been known to give up to six different quotes, and spend many hours working to give my clients multiple options that suit them. All of this is behind the scenes time that adds up when running a business.
I have a tight budget. Should I get a friend or relative to make my wedding cake?
Having a relative make your wedding cake might be a good option when you need to keep a wedding budget down. However, it is worth considering that your relative probably does not have years of experience in the wedding industry. They have, most likely, not made and delivered tiered/stacked cakes in all weather conditions to all sorts of venues.
I would assume that a hobby baker does not have special refrigerated transport to ensure the cake arrives safely. A relative most likely will not know how to advise you on dietary requirements and allergens when catering for hundreds of guests. And they probably do not hold Public Liability Insurance, which is a legal requirement at some venues. Or know how to calculate the perfect amount of cake to serve for the amount of guests and type of event.
Your wedding cake maker will make sure that everything goes without a hitch
A professional can make sure that any problems will be resolved without you even knowing about it. Which probably cannot be said if a friend makes your cake. However, if you have a really tight budget, are really laid back, and don't mind that your cake might look a little rustic or only serve half your guests, then I encourage you to go with this option.
I would never try to persuade customers to book a cake with me if they think that my cakes are overpriced. This is because I am confident that my cakes are priced fairly for the amount of skilled work and time involved. Not just in making a stunning wedding cake, with the best quality ingredients, to the highest standard, but also running a professional service and a business that will continue to be viable year upon year. However, I do keep my prices in line with the industry standard, and my local competitors. This is despite sourcing the best ingredients and aiming to be a pioneer in original design. And I am always happy to have a conversation about what is achievable for any budget but I cannot undervalue my work or time.
We aren't in it for the money!
It can be discouraging to think that people do not value your craft and or time. It can make you question your pricing structure and be tempted to undercut or keep up with the competition. However, if you take into consideration all of the factors that go into making a beautiful wedding cake and running a sustainable business, even before assessing the skill and passion of your baker, then, I think, that it is clear that you are getting well above what you pay for.
Most cake makers are obsessively passionate about their craft. And most will go above and beyond once they have a cake to design and deliver. But this does mean that I have to charge for my time and skills.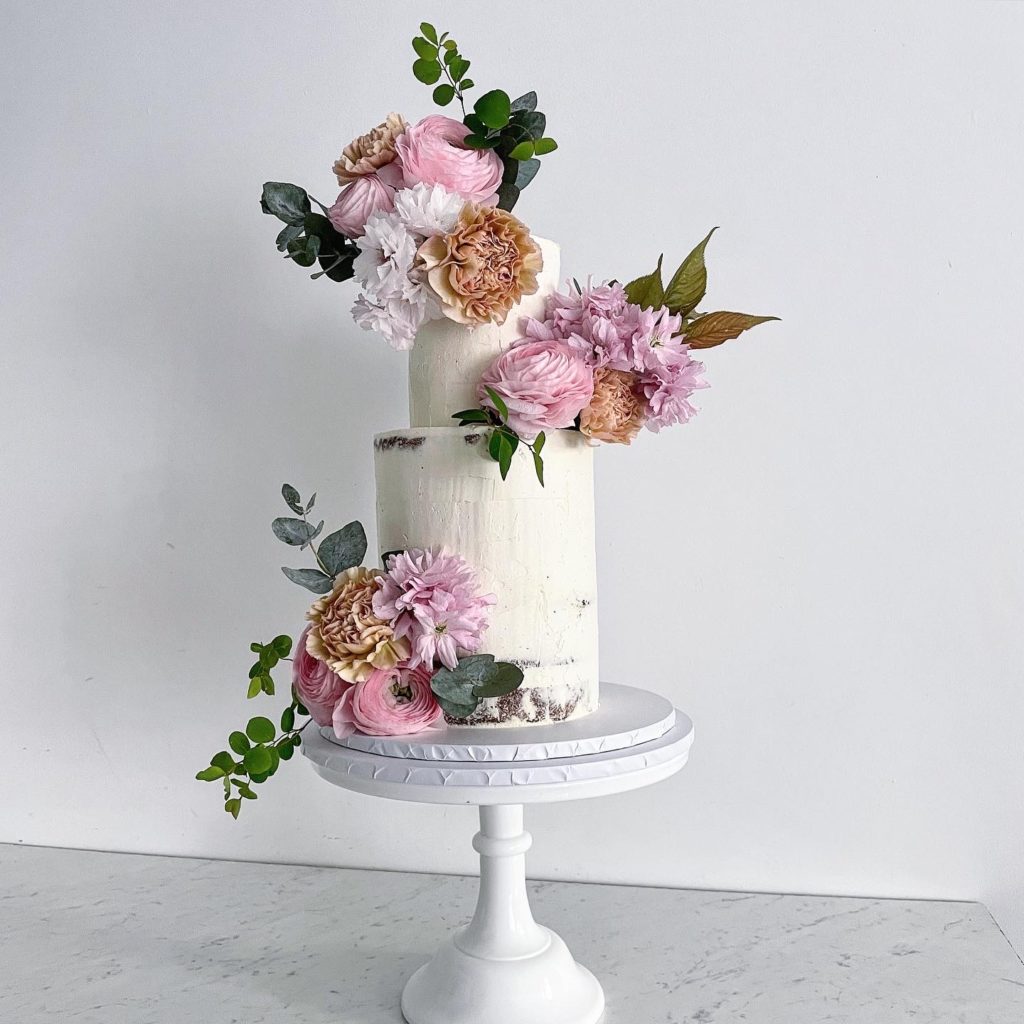 So why, if it is so tricky to run a profitable cake business, do you do it?
If you ask any creative wedding cake maker why they do what they do you will find that they have endless passion and creativity. There is also a deep satisfaction in bringing a design to life. Weddings are a magical time of celebration and I feel truly honoured to be part of that. I love creating memories that endure. In short, we do it because we love it, definitely not for the money!
So next time you think that your wedding cake is overpriced, stop and think about how your baker runs their business. Sure, you can probably find a cheaper alternative from a less experienced baker or hobby baker! But you will end up paying the price in receiving a cake where the quality, execution and taste will reflect this.
How long does it take to make a wedding cake?
I am often asked; 'How long does it take to make a wedding cake?' This is tricky to answer as each wedding cake is made bespoke. However, I can say that a simple 3 tier wedding cake can take 3 days to bake and decorate. Then it's usually a couple of days of admin for consultations, design, ordering and liaison with suppliers, plus delivery. Philippa Rose Cake Design goes into some detail on a timelines for how long it takes to make a wedding cake here.
If you want to know more about how to stick to a cake budget, or what size cake you need for your wedding, you can find helpful hints and tips on my website in my blog and size and serving guide.
Love From Luisa x