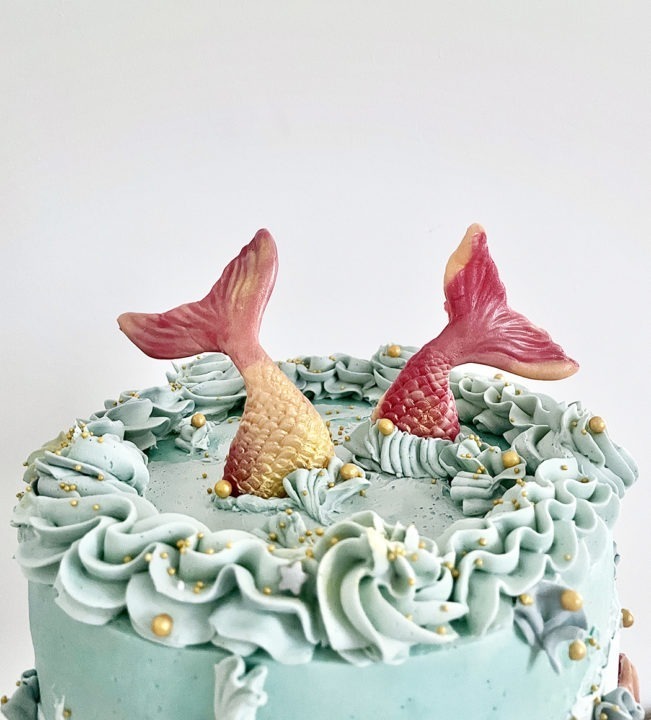 Customisable
Celebration Cakes
Customisable themed celebration cakes
Our Take On
Themed Cakes
Our customisable themed celebration cakes and wedding cakes can be adorned with extras and embellishments to make you a fully personal design. Use the guide price for these extras so that you can work within your budget but still have a gorgeous cake designed just for you.
Luisa is happy to take on a theme for inspiration however wealways stick to our unique style & aesthetic on all orders and this means:
We do not write messages on our cake designs. Mottos and messages don't fit within our particular design aesthetic but we are more than happy to order a recyclable acrylic cake topper from our preferred supplier. Cake toppers start from £18 + delivery for a fully customisable message. Cake toppers can also be kept as a lovely keepsake after the event.
We do not use fondant as a rule. We may use fondant to add certain flourishes to a cake design however, generally, we think that buttercream or chocolate ganache designs are much more delicious. If you have a particular novelty cake design in mind Luisa would be happy to recommend another local Brighton baker who may have availability.
Our take on some popular themes:
Our take on the popular mermaid theme for a children's party.
From £90 with 14 dessert servings.
Cake: £65
Ombre Buttercream and piping: £15
Figures: £10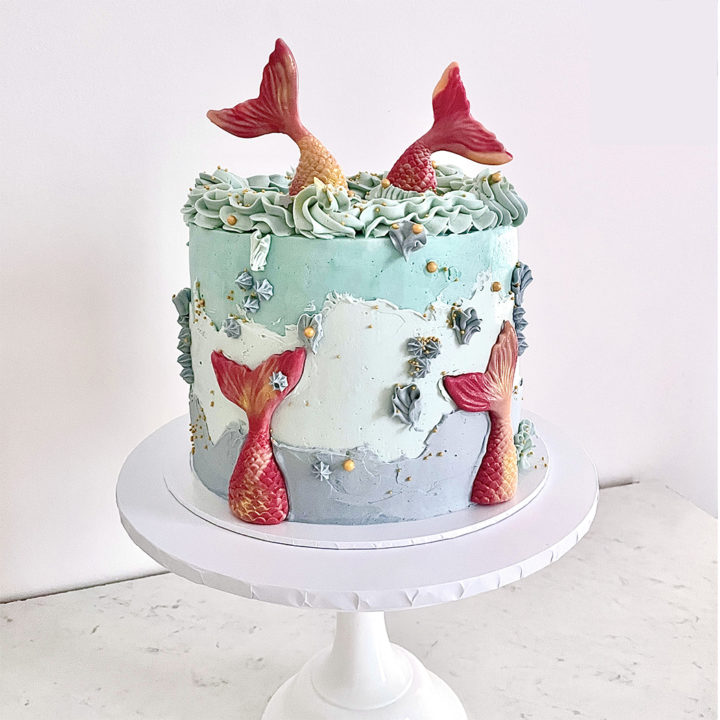 A David Bowie inspired cake for a super fan.
From £90 with 14 dessert servings.
Cake: £65
Fruit petal mohawk in orange: £15
Chocolate lightning bolt: £10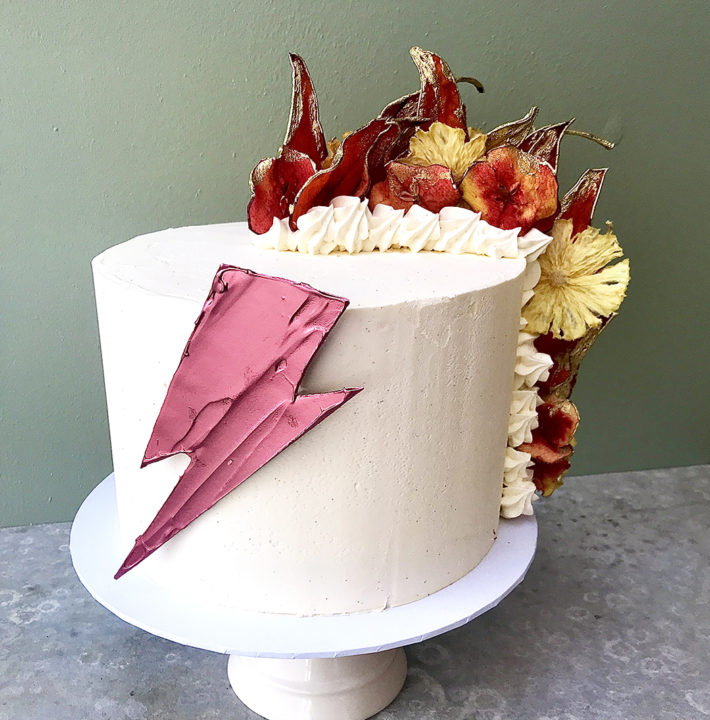 A cute floral cake in pastel pinks for little Evie's Christening
From £120 with 14 dessert servings.
Cake: £65
Buttercream painting and details: £15
Florals in large arrangement: £25
Personalised cake charm: £15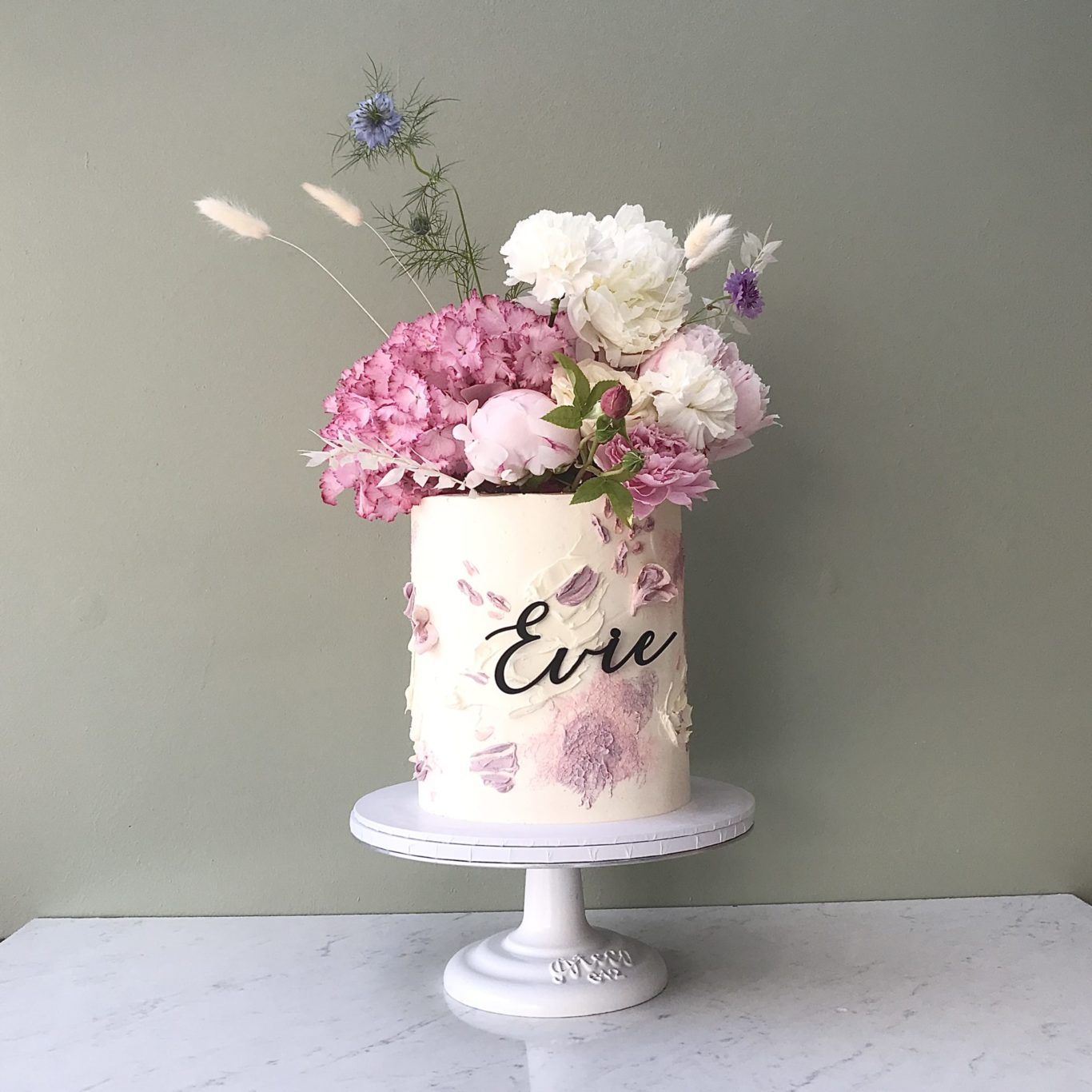 A special 1st Birthday celebration in blue, white and gold.
From £141 with 20 dessert servings.
Cake: £90
Buttercream painting and details: £10
Florals in large arrangement: £25
Fruit petal and fruit details: £15
Candle: £1
A note on custom cake
Pricing
How much do your themed celebration cakes cost?
Pricing a themed celebration cake with multiple design elements can be tricky as the final quote will depend on the size of the cake, how many servings you are looking to yield, plus any design extras that add time and materials on to the process.
You can see our celebration cake base prices on the celebration cake pricing page. Celebration cakes are worked out using a simple calculation of the cost of materials used plus time it takes to make your cake.
My celebration cakes start from £4 per serving for a single tier cake with a simple design* so the more servings you require and additional extras will affect the final cost.
Below is a guide for additional extras. These extras may be significantly more or less depending on the final design, how many different elements that are on the final cake design and the overall cake size/number of tiers. It is usually best to send an enquiry with any details such as the type of event, number of servings required any images that you may have and if you require delivery and Luisa will get back to you with a quote.
Extras &
Embellishments
| | |
| --- | --- |
| Gold/Silver details (paint/flecks) | £5 per tier |
| Gold/silver leaf (average 5-8 large leaf per tier) | £5 each leaf |
| Macarons | £5 per tier |
| Chocolate crown/shards | £10 each |
| Chocolate drip (white/dark/colour optional) | £10 per tier |
| Gold painted chocolate drip | £20 per tier |
| Salted caramel drip | £10 per tier |
| Confectionary (chocolate/lollies/fruits) | £10 per tier |
| Geode crystal design | £50 per tier |
| Edible image | £30 per sheet |
| Buttercream palette painting – abstract | £30 per tier |
| Buttercream painted flowers | £45-55 per tier |
| Watercolour buttercream in ombre | £30 per tier |
| Signature painted fruit petals | from £40 per tier* |
| Gold candles – extra tall (min order = 6) | £1 per candle |
| Fondant Figures from mould | £4 – £8 each |
*Prices are per cake tier but may be increased or reduced for larger/smaller cake tiers or when selecting multiple design elements. If you have a specific cake design in mind it is best to send over an image with a celebration cake or wedding cake enquiry and Luisa can quote you for a similar design. Please see information on our personal take on themed cakes.
*minimum cake size is a 6 inch single tier with 12 servings and start from £65
Still looking for some themed celebration cake inspiration? Check out this Pinterest board for even more beautiful and trendy cake design ideas.