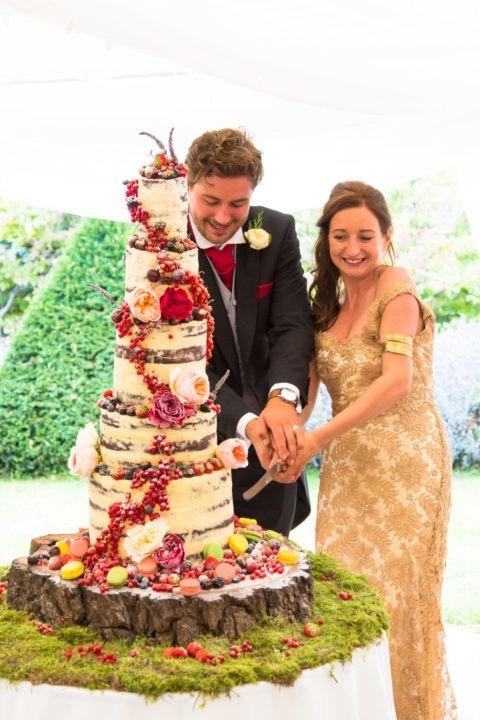 Lookbook &
wedding cake inspirations
We Create Bespoke Wedding Cakes Made To Order
Welcome to the
Love from Luisa Lookbook
Take a look at some of Luisa's previous wedding cake design commissions for your own wedding cake design inspiration. All of our wedding cakes are made to order and Luisa loves to work with you to to create new cake styles. We can work together to create a bespoke cake design that fits perfectly with your wedding aesthetic.
We want to represent your unique and individual style. Don't rule out a hybrid design that takes elements from one or two creations to make a new and personal piece of powerful edible art.
You'll find single-tier mini wedding cakes. Five-tier wedding cakes adorned with crystallised roses, macarons and and fresh berries; fresh floristry flower wedding cakes; naked cakes with natural rustic charm, and our signature fruit petal designs in full colour or monochrome. We can even add customised cake toppers, edible gold leaf and chocolate drips in our extras and embellishments which you can find in the wedding cake pricing section.
Examples of previous Wedding Cakes Made To Order
Signature
Fruit Petal Twist
For the different and daring! This three tier fruit petal twist was created for Kevin and Steph for their Autumnal wedding in September 2021 and the green, orange and gold hues fitted the Fall theme beautifully.
Fruit petals are hand painted with edible food colour in the hues of your wedding palette and dehydrated before being lovingly placed on each tier with gold touches for added style and elegance.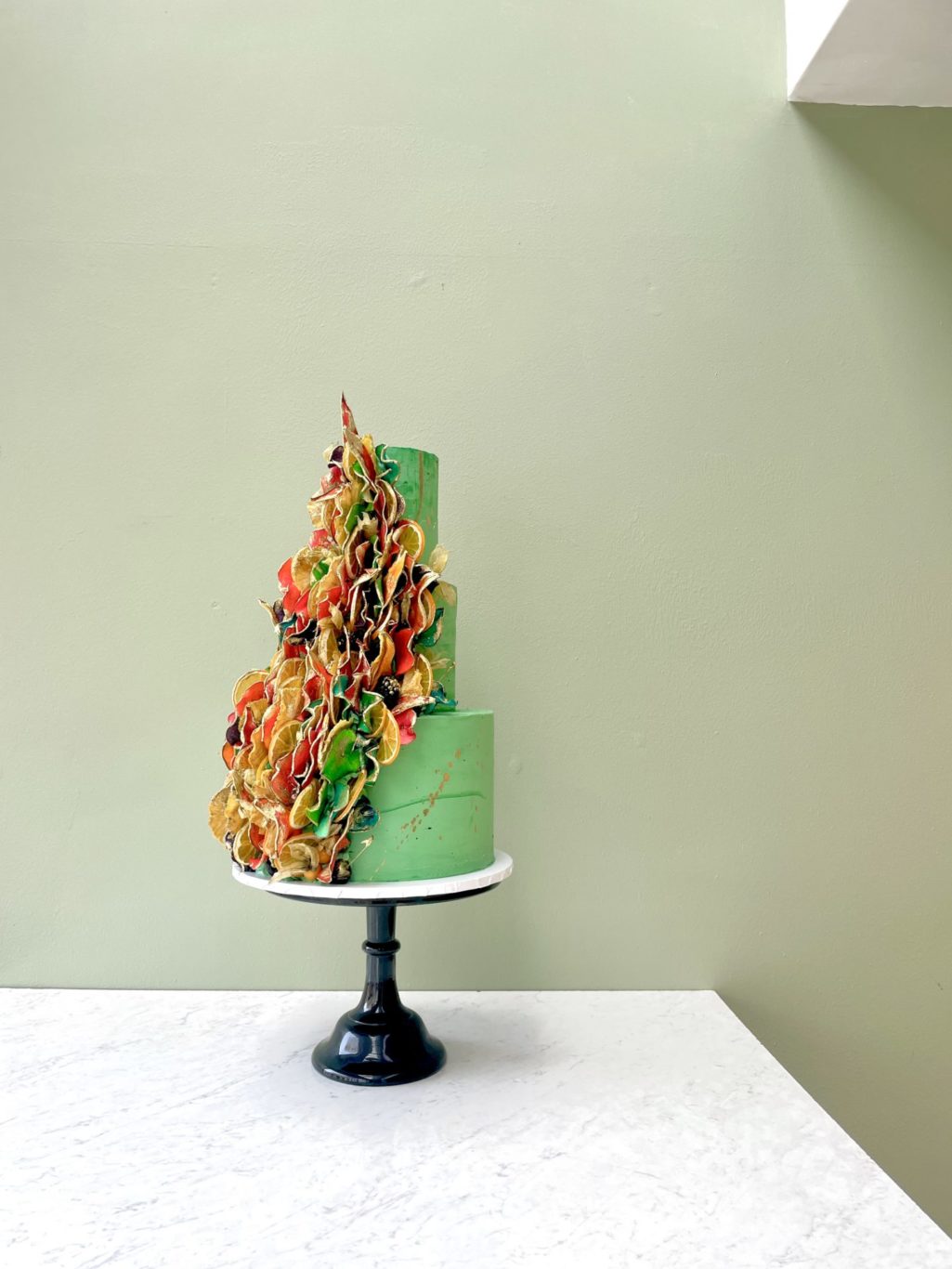 Buttercream
Painted Cakes
This hand painted cake was styled to represent the bride's bouquet with a colour palette of mint and sage greens, pinks and touches of white. This design was truly a work of art and 100% personal to the couple.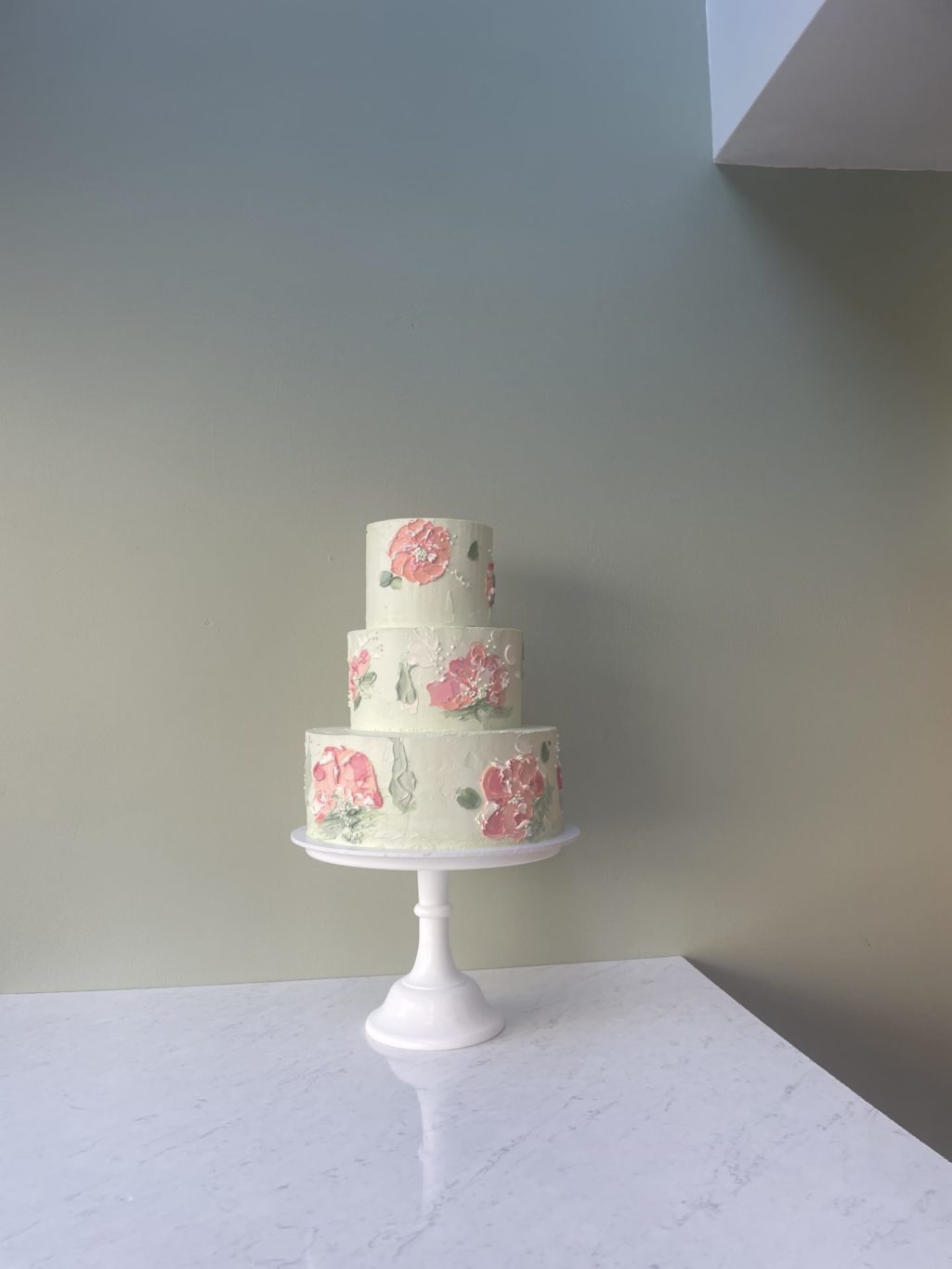 Classic Cakes
Vegan & Plant Based
This romantic cake was designed using two of my most popular elements; florals and gold paint details.
Both cakes were made fully vegan. I adapted my seasonal flavour menus to be plant based and this goes to show that you never need to compromise style for an alternative dietary option.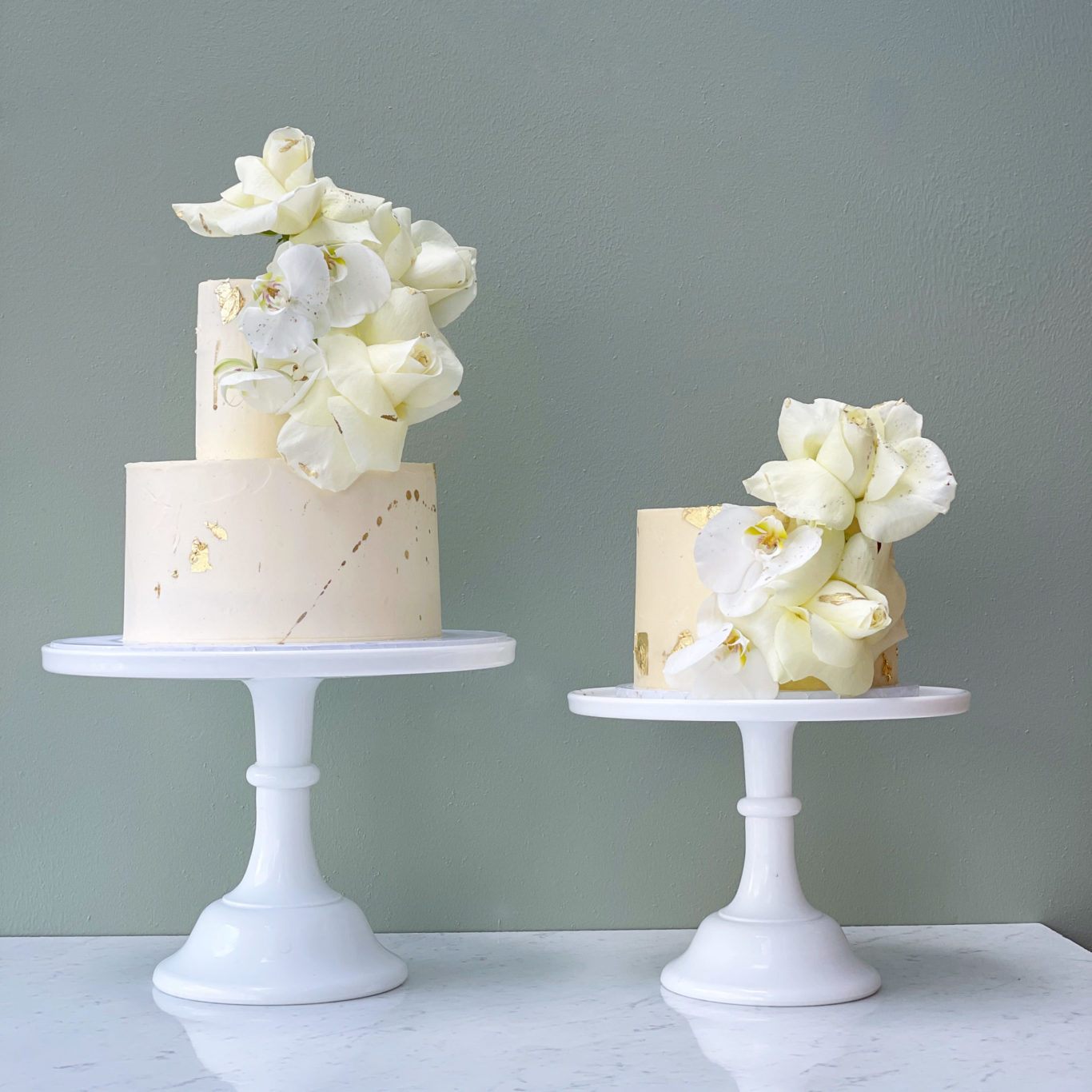 Romantic & Whimsical
Semi-naked cake
This beautifully whimsical two tier semi-naked cake was made for Gemma and Simon and consisted of two tiers of Belgium chocolate sponge with ganache filling and vanilla Swiss meringue buttercream exterior.
Decorated with gorgeous café au lait Dahlias, Honesty or 'Lunaria' and Silver grass.
2022 Wedding
Cake Trends
With rust coloured buttercream painting and dried florals: This wedding cake is perfectly on trend for 2022 wedding cakes. With a multi-toned rust palette and dried florals. Delicately dried flowers include; edible Amaranth grass and Helichrysum flowers, also known as 'everlasting', making them perfect for a wedding cake. A design that is perfect for those couples looking to stand out with something a little different.
Flower Bomb
Sunset Cake
One of my favourite designs ever. The theme was 'Boho Sunset Wedding' and this two tier beauty was painted with buttercream watercolour in sunset tones and adorned with florals in dusty pink, orange, sandy beige and yellow.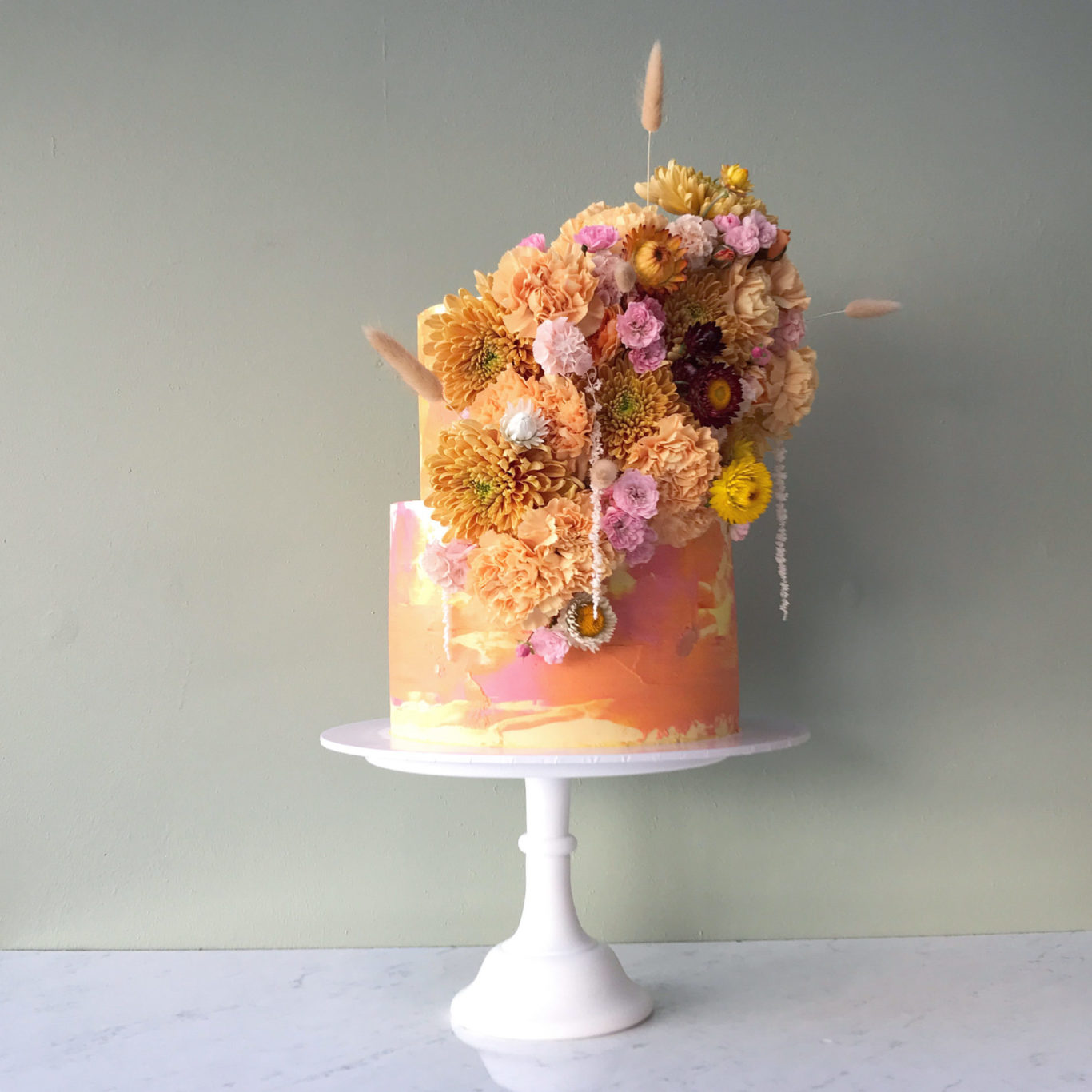 Pink Peonies &
Chocolate drips
Are you looking for a cake that is both fun and flirty whist maintaining an effortless elegance? This three tier cake was filled with layers of chocolate sponge soaked in cherry kirsch syrup and cherry compote with whipped vanilla Swiss meringue buttercream and chocolate drips.
A Classic
Beauty
This classic white wedding cake was made for a couple who decided to marry when well into their 80's. Proving that love doesn't age!
Three tiers of delicious lemon and elderflower sponge cake fully covered in organic vanilla Swiss meringue buttercream. Adorned with dusty pink and white roses and delicate gypsophila.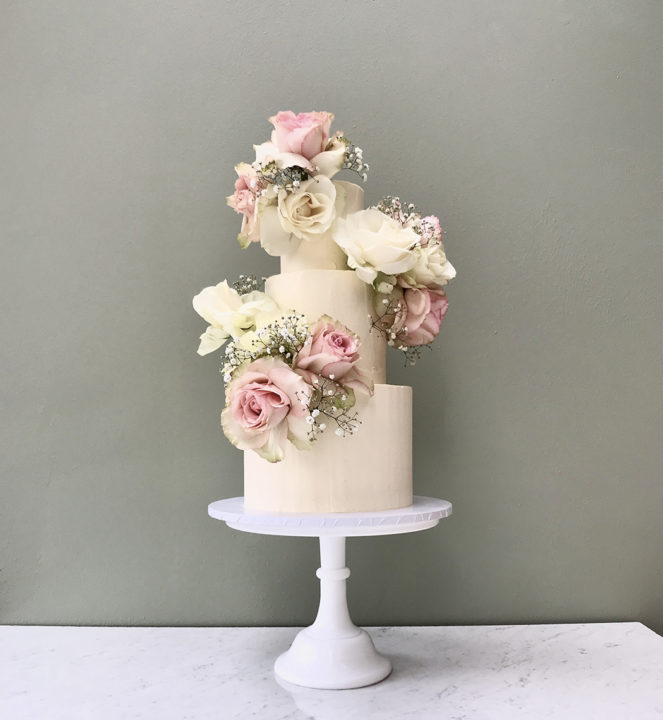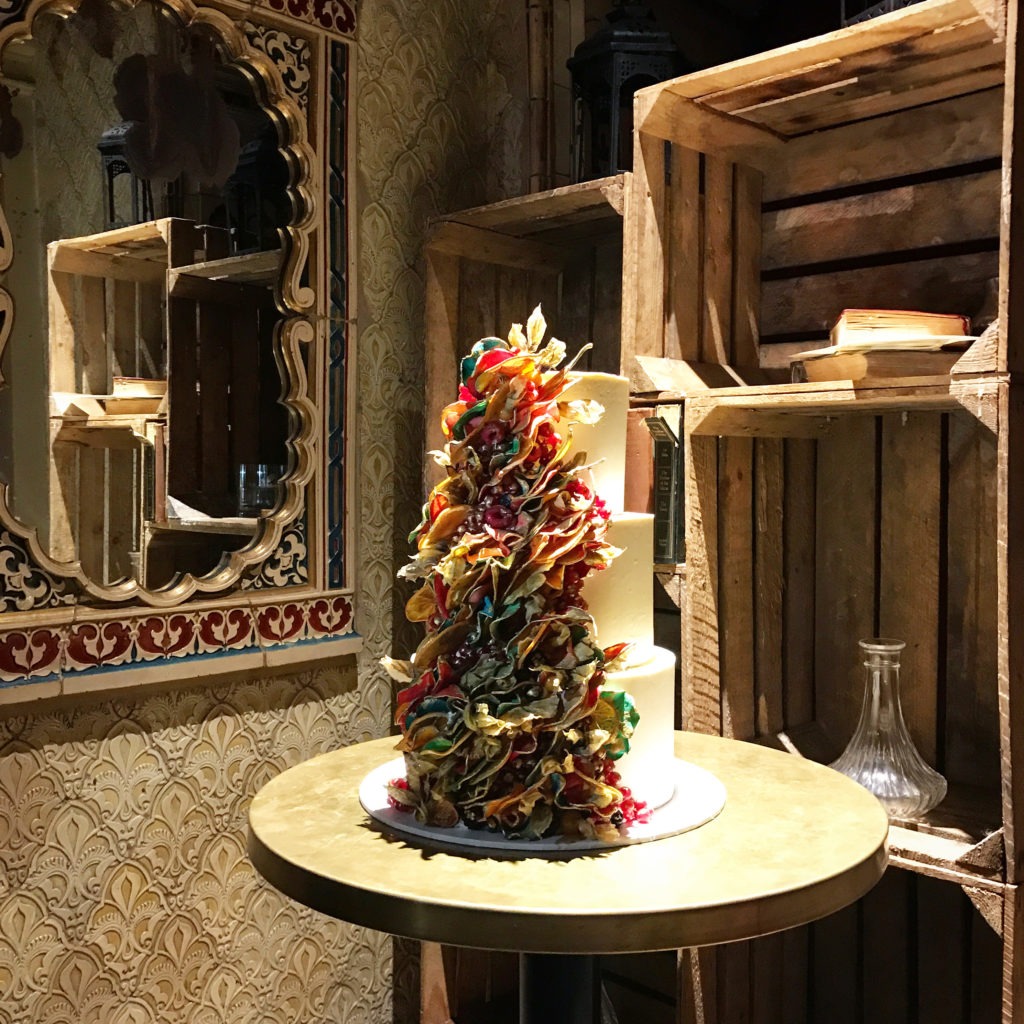 Browse the gallery for wedding cake design inspiration
Once you have an idea of the design you would like for your wedding cake take a look at our gorgeous wedding cake flavours and make an enquiry to check the availability for your date. Luisa will get back to you promptly to confirm available dates before we begin the ordering process.
If you want a wedding cake made to order please get in touch…
Enquire now about Luisa's availability for your wedding date.
Want to see more 2022 wedding cake trends? Check out this article.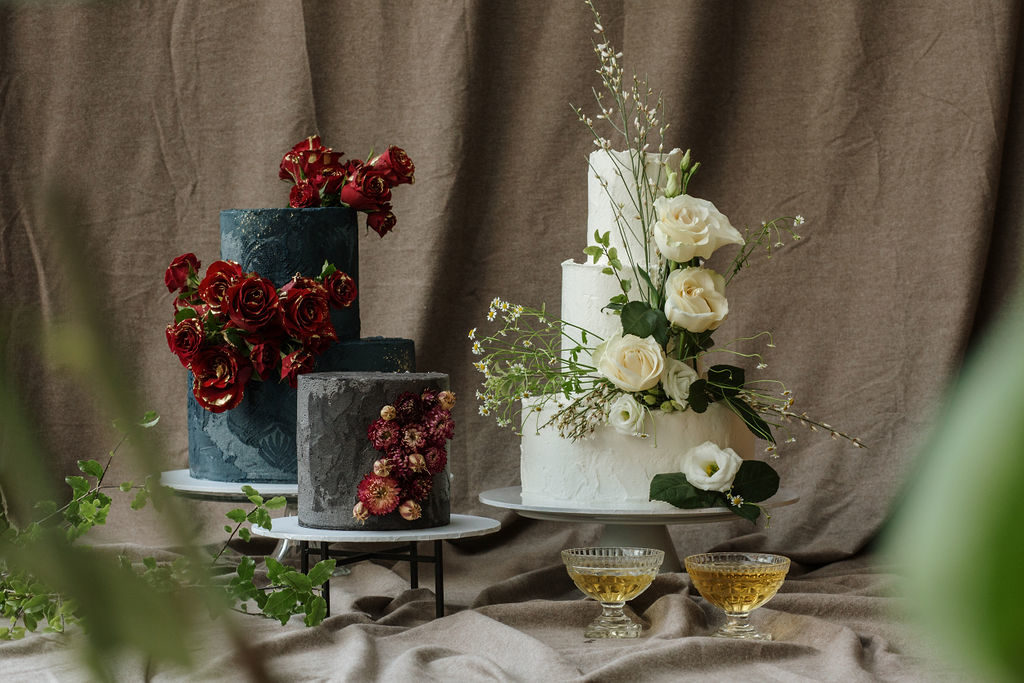 Love From Luisa x