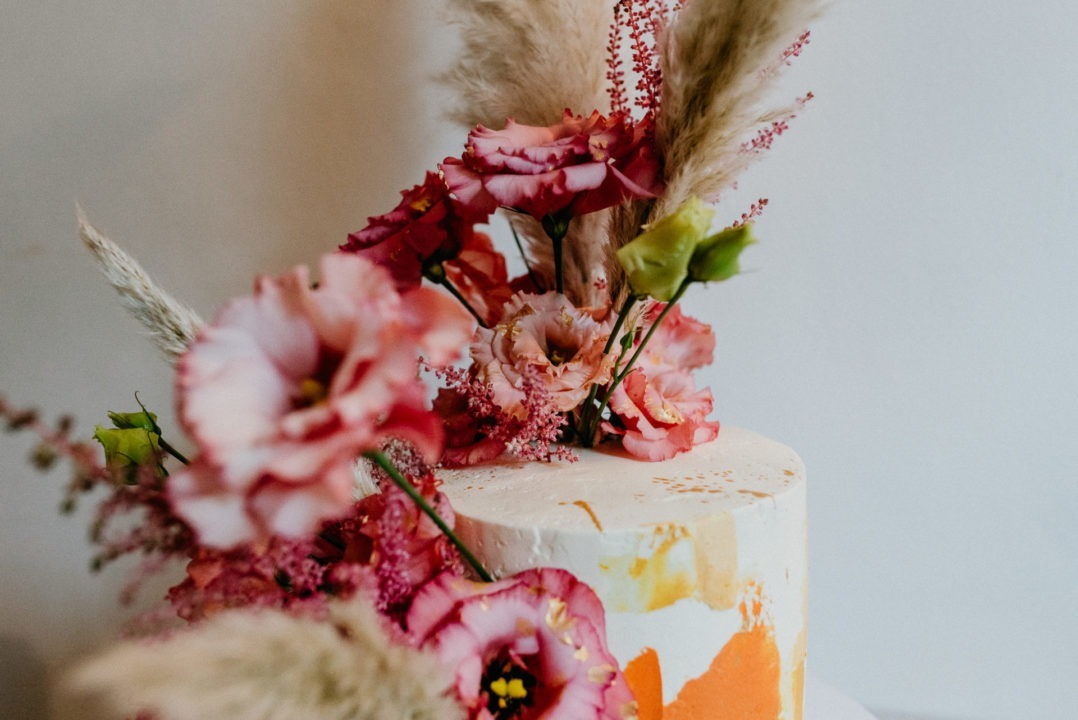 FREQUENTLY ASKED QUESTIONS
Everything you need to know to
order your custom cake
There are a few considerations when ordering a custom cake or wedding cake. I aim to make the ordering process as easy as possible so I have listed some of my frequently asked questions below to help you with your order.
You will find information on ordering, cake care, cake portions and cutting guides and delivery. For wedding cakes there are frequently asked questions about pricing, portion guides and sizing considerations, payment, deposit and cancellation policy, cake sample and flavour menus, dietary requirements, cake stand hire and payment information.
Ordering &
Enquiries
How do I order a cake from you?
You can make an enquiry for a date and get a rough quote by filling out the enquiry form on the website. I will aim to get back to you within 24-48 hours, however in busy wedding season this may take a little longer. My official admin day is Tuesday when I will reply to all unanswered emails in my inbox. Please check your spam folder if you are waiting for a reply from me as I usually attach my price list to emails and this can cause them to be filtered into your spam folder.
Make
An Enquiry
Cake Care
Looking after your cake
How do I look after a cake once it is delivered or collected from the kitchen?
You can collect your cake or have it delivered on the day of your event or up to 2 days before. Cakes require special care and storage to keep them at their best.
All of my cakes are freshly baked for each order. My cakes are best eaten on the day of delivery/collection and remain good for up to 3 days after if stored in an airtight container in a cool dry place. If you think that you will have leftover cake, you can follow this handy cake cutting and storage guide for a great way to cut your cake in a way that makes storing and keeping the cake fresh, much easier.
Cakes can be frozen for up to 3 months. I would recommend cutting the cake into portions before freezing so that you can defrost just the right amount each time you need a slice.
Transport:
When picking up a cake box, be mindful that the decorations can be damaged if care is not taken. Always hold the box from the bottom and avoid allowing the sides to touch the cake or decorations.
If collecting a cake from our kitchen, I recommend that you find a flat area in the boot of your car to put the cake on, ideally on a non-slip mat. Ensure that there is nothing to roll onto or damage the cake in transit. You can pad around the cake to stop it from moving. Drive very carefully, taking corners slowly and avoid sharp breaking.
Storage:
Cakes should be stored in the fridge or a cool, air conditioned room between 2-5 degrees Celsius, unless otherwise stated in the specific cake care instructions given.
Always remove from the fridge around one hour before cutting so that the cake can come to room temperature before serving. This ensures that the flavours and textures of the cake will be at the optimum temperature for eating.
Display:
On cooler days, or in a venue with air conditioning, your cake can be set up and displayed up to four hours before serving. However, your cake should always be displayed away from direct sunlight.
On hot days, in venues without ventilation or at open air venues, your cake should remain refrigerated or in a cool area, around 5 degrees Celsius, until an hour before serving. This is to ensure that the decorations stay perfect. In all conditions the cake should be displayed away from direct sunlight or any direct heat such as open flames or fires.
Cake Size &
Portion guide
How many servings/portions do I need for my cake?
The industry standard is dessert (or party) serves at 1″ x 2″ slices or wedding (or coffee) serves at 1″ x 1″ slices. The size of your servings depends on a few variables and is a matter of choice.
As a general rule weddings usually serve party portions at 1″ x 1″ whilst birthdays and other celebrations usually serve dessert portions at 1″ x 2″, but there are a few things to consider before deciding on dessert or party portions:
Is your cake required as presentation for a ceremonial aspect such as a cake cutting at a wedding, the focal point on a dessert table or to eat as part of a dessert course?
Are there other desserts or small treats being served at your event? Do you want to serve your wedding cake as dessert for all of your guest instead of a coffee course?
What is the adult/child ratio? Children will usually eat more cake and require larger party portions whereas adults usually have less of a sweet tooth and may go for smaller coffee serves.
Who will be cutting the cake? If you have professional caterers cutting your cake you will get the perfect number of serves from each tier, however if a friend or family member is cutting the cake they may not know the correct cutting technique and may not get the exact amount of serves from your cake. A helpful cake cutting guide is supplied with each cake order.
Do you want leftovers after your event?
You can find out more on how to choose the perfect cake size for your event on our sizes and serving guide.
I am cutting my own cake, what do I need to know?
Before cutting a cake you need to remove all flowers, dowels and non-edible decorations, including sugar paste/rice paper flowers.
Be aware that all tiered cakes and tall vegan cakes are supported with wooden dowels including a central dowel for structural support and each tier is supported by a cake board. For more tips on cutting a tiered cake you can see this video.
Prices:
Delivery
Do you offer delivery?
Yes. Due to the delicate nature of all of my tiered cakes, courier service is not suitable for delivery. I therefore offer personal delivery on all cakes, subject to availability. All wedding cake orders will have the option of delivery as standard and this will be clearly itemised in your quote.
Cost of delivery:
Delivery is calculated on the distance from my kitchen to the delivery address. For wedding cakes the delivery fee includes setting up the cake at the venue, if required, and liaising with the venue or wedding planner regarding delivery and set up. This includes all of the particulars of the day such as running order and ceremony timings. This way you have nothing to worry about leading up to your big day.
Below are rough costings for delivery from Brighton (BN1). A full, exact quote will be given upon enquiry, if requested.
| | | | |
| --- | --- | --- | --- |
| Central Brighton | ~ £20 | (wedding cakes with 2 + tiers) + £20 | £40 |
| Brighton + 10 miles | ~ £30 | (wedding cakes with 2 + tiers) + £20 | £50 |
| Brighton + 20 miles | ~ £50 | (wedding cakes with 2 + tiers) + £20 | £70 |
| Brighton + 30 miles | ~ £70 | (wedding cakes with 2 + tiers) + £20 | £90 |
| Brighton + 50 miles | ~ £90 | (wedding cakes with 2 + tiers) + £20 | £110 |
| Brighton + 70 miles | ~ £120 | (wedding cakes with 2 + tiers) + £20 | £140* |
*delivery within London may be subject to congestion zone and ULEZ charges payable by the customer at daily rates.
I recommend my personal delivery service for all cakes above two tiers. Once an order is collected from my kitchen I cannot accept responsibility for the transportation or storage of the cake provided it has been properly assembled and doweled. I will give you a clear delivery cost on enquiry so that you can decide on delivery or collection.
I offset the carbon from all of my deliveries by making charitable donations to environmentally sustainable companies fighting climate change.
Ordering A
wedding cake
wedding cake FAQ's
How do you price a wedding cake?
Wedding cakes and celebration cakes are priced the same way. Personal quotes are based on the final design and priced according to the intricacy of the final design and work involved. There is an extra set up fee for wedding cakes above 2 tiers to account for time spent on the display and arrangements with the venue, wedding planners and florists etc.
My single tier cakes are priced at roughly £6.60 per party serve with double barrel cakes serving around twice as many serves but priced around 30% more. Stacked cakes are priced at roughly £6.50 per coffee serve and include a small stacking fee.
Sizing Considerations &
portion guides
Do I have to cater for all of my guests?
Can I choose a smaller cake just for the cutting ceremony/display?
This really depends of your preference. As a general rule of thumb if you are looking to reduce the cost of your cake you can choose to cater for around 90% of your guests, assuming that some people will want a smaller portion or to share. If you think that fewer people will want cake and you want it more as a display or for the cutting ceremony, you can choose to cater for as little as 70% of your guests. So if you have a guest list of 100 you can choose a large two tier or medium three tier cake that has 70 coffee serves and save 30%, for example.
Can I serve my wedding cake as dessert after the meal?
If you decide to serve your wedding cake as dessert you will need a full dessert serving for each guest at the wedding meal. This will increase the size of your cake significantly and therefore the price. However, serving your wedding cake as dessert will save catering fees and will most likely work out cheaper overall. Before choosing this option, it is important that you speak to your venue and/or caterer to check that they are willing to portion and serve your cake as dessert and possibly add a side such as berries and ice cream. For example, a medium three tier cake with 80 coffee serves would serve 46 as dessert for around £490.
Payment, Deposit
& cancellation policy
What payment methods do you accept?
I currently accept BACS transfer for all wedding cake orders.
Orders made from abroad can be paid with an IBAN number upon request.
Do you require a deposit to reserve a date?
Yes. A 50% non refundable deposit is payable to secure your event date. Final payment (in full) is due no later than one month prior to delivery. As weddings are seasonal, we get booked out well in advance and your deposit is required to block out that date for your order.
Once a quote is generated and agreed upon, it is valid from 7 days of receipt of this order confirmation. After this time prices may be subject to change. The date is not 100% guaranteed until the security deposit is paid, however you will have first refusal for 7 days.
Late payments or charge backs may result in a fee of £25 and/or delay to delivery times. Please see full terms for cancellation policy.
Can I make changes to my order?
Yes. However, final changes must be put to Luisa at hello@lovefromluisa.co.uk no later than six weeks prior to delivery. Any changes made after this date cannot be guaranteed. Please ask for our full terms which will be emailed to you as standard when completing an order.
Consultation
Cake samples & Flavour menus
Do you do wedding cake consultations/tasters?
Yes. Consultations are available for wedding cake clients with orders above £250 and are subject to availability. I usually offer cake samples once a month in low season; November – March and have less regular tastings in peak season April – October. I will let you know the next available dates for collecting cake sample box upon enquiry.
Please note that cake tastings may not be available for last minute bookings. "Last minute bookings" are classed as any booking/enquiry made from mid April for the same year in peak season (May – October). This is because wedding cake sample boxes that include all of our signature flavours with syrups, pralines, brittles, buttercream, ganaches, jams and compotes etc take over three days to prepare and there is not enough time in the busy peak wedding season months (May – October) to provide these.
How do consultations work?
I make up wedding cake sample boxes for collection from my kitchen in central Brighton. You can then take these home to try at your leisure before choosing the flavour(s) you want for your cake.
Do you offer cake samples for last minute bookings? (Enquiries from April for weddings in the same year):
I have a limited number of cake tasting dates in the year and tend not to offer tastings in the busy wedding season June – October as they take at least three days of preparation. Sometimes there may not be a tasting box slot before your date if you are booking last minute.
I don't have time to collect samples and have a consultation. Can I book a wedding cake without this step?
Yes of course. If you prefer to book your cake directly, without a sample box we can complete the whole order via email or phone calls.
Do you do cake tasting samples or consultations for smaller orders?
I currently only offer cake sample boxes for wedding cakes and celebration cakes above £250. If you want to book a sample box of my six signature flavours without a booking, and I have a batch coming up, I will offer sample boxes for £45 with collection from my kitchen.
Do you charge for cake samples?
Cake sample boxes are £40 with 50% (£20) discounted from your final wedding cake bill should you book with me. For clients who have booked and paid a £100 holding deposit, the cost of the cake sample box(£20) is added to the final bill.
What flavours are in your cake sample boxes?
Cake sample boxes include six of my signature cake flavours for you to try. My menus are tried and tested and use seasonal produce. I will inform you upon booking which flavours will be in the upcoming tasting box.
Do you do off-menu cake flavour requests?
I aim to add both incredible flavour and texture to each item on my seasonal wedding cake menu and therefore only accommodate changes subject to enquiry.
My sample boxes contain six of my tried and tested recipes. Some small adaptations can be accommodated on personal request however, these should be confirmed with plenty of notice and are not guaranteed.
I do not make cakes without a tried and tested recipe so custom flavour choices tend to come with an extra cost if I need to test a recipe for your cake. You would be more than welcome to order a cake in the test sample flavour, for collection, at my standard price so that you can try the flavour and see the results.
I am ordering a vegan wedding cake or a gluten free wedding cake. Can I get a vegan cake sample box or a sample box for my dietary requirements?
Vegan wedding cake sample boxes or wedding cake sample boxes for dietary requirements such as gluten or nut free can be made up with the same considerations as above.
Before ordering a vegan wedding cake or enquire about our dietary requirements it is important that you take a look at our considerations for vegan wedding cakes and are aware that there are limitation to my gluten free and nut free offerings as I work in a kitchen that uses these ingredients at times. For more on allergens see my vegan cakes and allergens page.
Can I book an in person consultation with you to talk about my wedding cake?
I offer virtual consultations via Zoom and on the phone however I appreciate that some clients prefer to meet in person to discuss their wedding cake design and meet me personally.
Personal consultations are subject to availability with limited availability in peak season, May-October. Consultations are charged at £40 for two people and take place at my kitchen space in central Brighton. The appointment will last approximately 45 minutes and I will provide tea/coffee and cake*. During the appointment we will discuss your cake samples that you have previously tried and finalise the design for your cake. I will sketch you a, rough, design of the cake which I will send to you after the meeting.
Allergen &
dietary requirements
Do you offer vegan and gluten free cakes?
Yes! I love to make vegan and gluten free cakes. I can also accommodate for allergen requirements however I operate in a kitchen that uses dairy, gluten, soy and nuts as well as other less common allergens so cannot fully guarantee that all my recipes are 100% allergen free.
How do I order a vegan wedding cake?
First check out our considerations for vegan cakes as they require a bit more care than standard cakes. Then fill out our enquiry form specifying "vegan option" in the notes and I will get back to you.
How do I order a gluten free wedding cake?
Fill out our enquiry form specifying "gluten free" in the notes and we will get back to you.
Cake
Stand hire
Do you offer cake stand hire?
Yes. I offer a small selection of cake stands for hire and can send options upon request. Cake stands are hired at £20 with a £65 refundable deposit upon their safe and timely return within one week of your delivery/collection date. Stands can be returned by courier or personally delivered to my kitchen. Your deposit will be refunded within 10 days of receiving the stand back.
Confirmation &
Payments
What payments do you accept?
All payments above £100 are made with BACS. Payments from abroad can be made with an international transfer or IBAN number. Please enquire if you require more payment options such as Paypal or card payment.
Once we have agreed the design and the final quote I will send you a detailed order form, my payment instructions and terms and conditions. I require a 50% deposit to secure a date and by making this payment you are confirming the details of your order and consenting to the terms and conditions.
For any questions please get in touch with Luisa. x