How much should my wedding cake cost? A guide to choosing a wedding cake budget.
This is a helpful guide to choosing your wedding cake budget. Including some tips for figuring out 'how much should my wedding cake cost?'
At Love From Luisa Cakes I (Luisa, hey!) can guide you through choosing your wedding cake budget. I understand that weddings are a costly. I want you to understand how and why my wedding cakes are priced according to the ingredients used and work involved. You can read my helpful blog post on this too. So, when asking "how much should my wedding cake cost?' there are a few things to think about and I will go through these considerations below.
How much your wedding cake should cost depends on your budget and expectations:
Firstly, is important to note that at Love From Luisa we can work with most budgets. However, the price of your cake will reflect the time it takes to execute your design, the skill involved and quality of the ingredients used. If you want to know more about how your wedding cake is priced you can see my other blog post "How much does it cost to make a wedding cake".
Every 'Love From Luisa' sustainably made wedding cake is individually priced. I will provide an initial quotation upon enquiry. Once I have a little more information on the design, and your overall aesthetic and expectations for your special day, I can get you a full breakdown of a detailed quote for you to consider.
How much do your wedding cakes cost?
My cakes are priced at roughly £6.50 per serving plus design extras for intricate or time consuming extras and embellishments. You can find a guide to these base prices and design extras on my wedding cake pricing page.
To give you a more detailed example of the actual cost of your wedding cake I have created a guide for three main wedding budget categories below. These three examples are worked out based on roughly 61 wedding servings or a small three tier cake with 8, 6 and 4 inch tiers. However, you can roughly calculate the cost of your wedding cake with the following calculation; A. Number of servings required + B. Extras and embellishments (per tier).
So using this calculation, for example, if you have 100 guests you would require a relatively large 3/4 tier cake. Add hand painted fruit petals cascading down each tier and gold details on the leaves and gold flecks and this would be; A. (£6.50 x 100) £650 + B. (Fruit petals: 8 inch = £40, 6 inch = £30, 4 inch = £20 = £70 + Gold leaf and details: £20) = £740.
If you are sticking to a budget the best way the reduce the cost without compromising on the design would be to reduce the number of servings. Maybe it isn't as important to you that every guest gets a full size slice of cake. Can they share a slice? Say you have 200 guests and are already serving dessert so want the cake more for the cake cutting ceremony and a few important guests you could opt for a smaller three tier cake for say 61 guests and save significantly on the overall design. You can find out more about how many guests to cater for or getting a cake just for the cutting ceremony in my cake size and serving guides here.
Whatever option you decide to go for your personal quote will take into consideration the cost of the premium ingredients used and the time it takes me to design and sketch, bake, make decorations, assemble and add final flourishes and touches to your cake.
I always work out delivery as a separate item on the invoice and this is calculated based on the distance from my kitchen in Brighton (BN1). Delivery is a specialist service for wedding cakes and cakes with more than three tiers need to be delivered deconstructed and assembled on site.
3 budget categories: Modest, Showstopper and Bells & Whistles
We have split the following guide into three main categories and explain the difference in price whilst giving some examples of the designs you might expect from each category. You can see more on our wedding cake designs here: Wedding Cake Design Inspiration.
When thinking about how much your wedding cake should cost it is important to first consider your budget as this will be the biggest factor in setting the limits of your design. The second biggest consideration will be the amount of guest you are planning to serve. The size of your cake will be the main factor in determining how much your wedding cake will cost. I price my cakes per serving and the design extras are worked out per tier. So, the larger your wedding cake the more time and materials it will take to construct and the more it will cost overall. You can see more on choosing the correct cake size with the right amount of servings here: Cake Sizes & Servings. Below you will see the three budget categories; modest, showstopper and bells & whistles.
Finally, the overall design will be a factor in determining the final cost of your wedding cake. The amount of time it will take to research, design, sketch and take to go back and forth deciding the final design, as well as the materials and ingredients and the time and skill it takes to execute a design all determine the final cost of a wedding cake quote. I always get a rough quote over to you after the initial enquiry and a detailed quote as soon as I know what design you are looking for so that you can make a decision about working with me as quickly as possible.
Category 3 – The Bells & Whistles
An opulent & indulgent cake, made sustainably, with all the bells & whistles: from £580 for three tiers
Our third category is for couples for whom budget is less of a consideration. Or for conscious couples who have specific wedding cake design ideas with a budget set aside for their special cake. A three tier wedding cake starts from £580 (from price £580 has 61 serves a 8, 6 & 4 inch cake). This would include a fully customisable design decorated in Swiss meringue buttercream or chocolate ganache in modern and unique trends. The sky is the limit when it comes to designs in this category.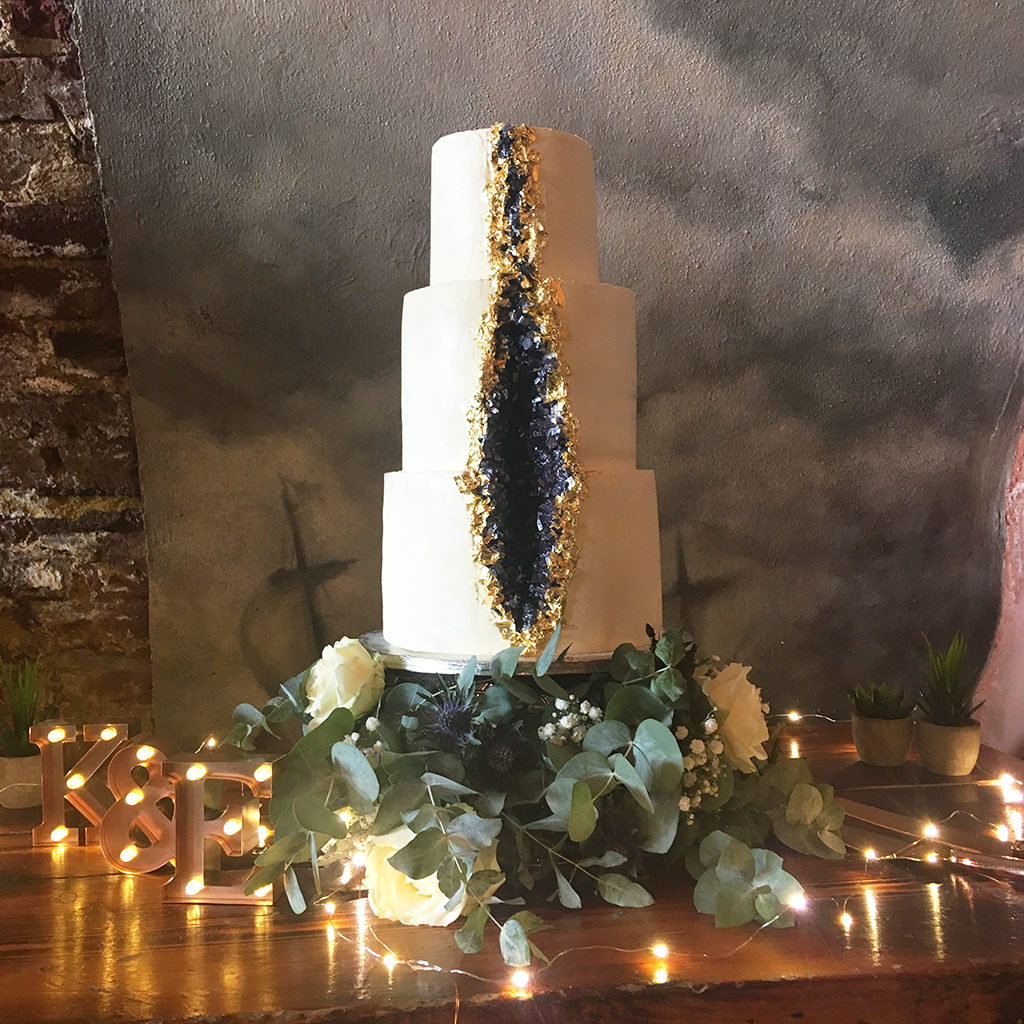 Category 2 – 'The Showstopper' Luxury Wedding Cake Budget
A show stopping cake, made sustainably, on a luxury wedding cake budget: from £531 for three tiers
A more lavish wedding cake budget will get you a more elaborate wedding cake design, with extras and embellishments to off-set your cake and fit with your unique wedding theme. A three tier wedding cake starts from £531 (from price has 61 serves for a 8, 6 & 4 inch cake). This includes my signature fruit petal twist designs in your choice of colour palette. With options for panted buttercream designs, individually hand painted decorations and/or fresh floral arrangements.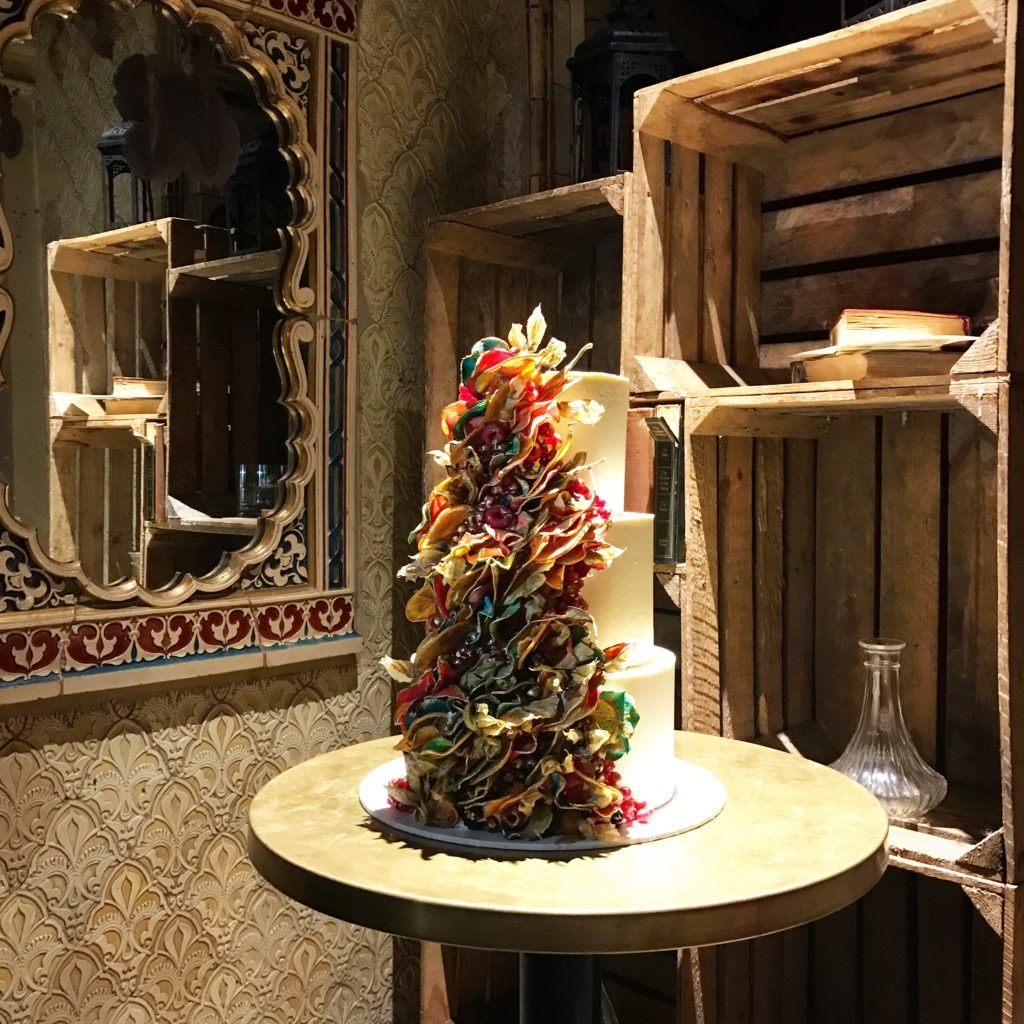 Category 1 – A Modest Wedding Cake Budget
Eco-wedding cake design on a modest budget: From £396 for three tiers
If you are planning a wedding on a modest budget but still want to think about your sustainable impact a three tier wedding cake starts from £396 (from price is for 61 coffee serves: 8, 6 & 4 inch cake tiers). This includes minimalist, modern buttercream or semi-naked design and some minimal fresh floristry florals to compliment the cake and your wedding decor. More intricate design extras can be added per tier. You can see our 'Extras & Embellishments' here for a guide.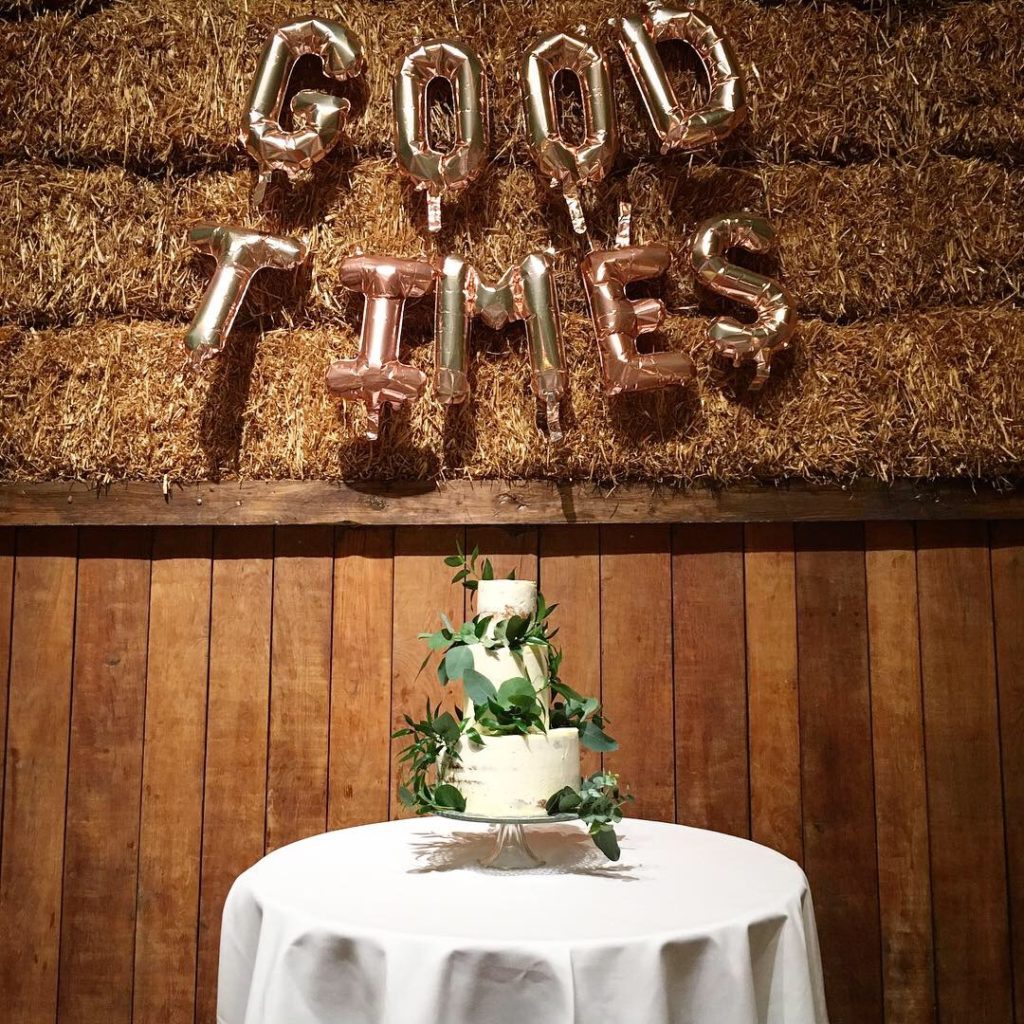 What's included in my quote?
These three main budgets all include a consultation with Luisa to discuss your needs, a cake design & sketch, our premium, seasonally sourced menu options and an option for personal delivery and professional set-up at your venue for cake orders above £790 within East Sussex.
Carbon offset deliveries
I offer carbon neutral deliveries within central Brighton and a personal and professional set-up service for an hourly rate. Delivery further a field is also available and will be calculated on enquiry.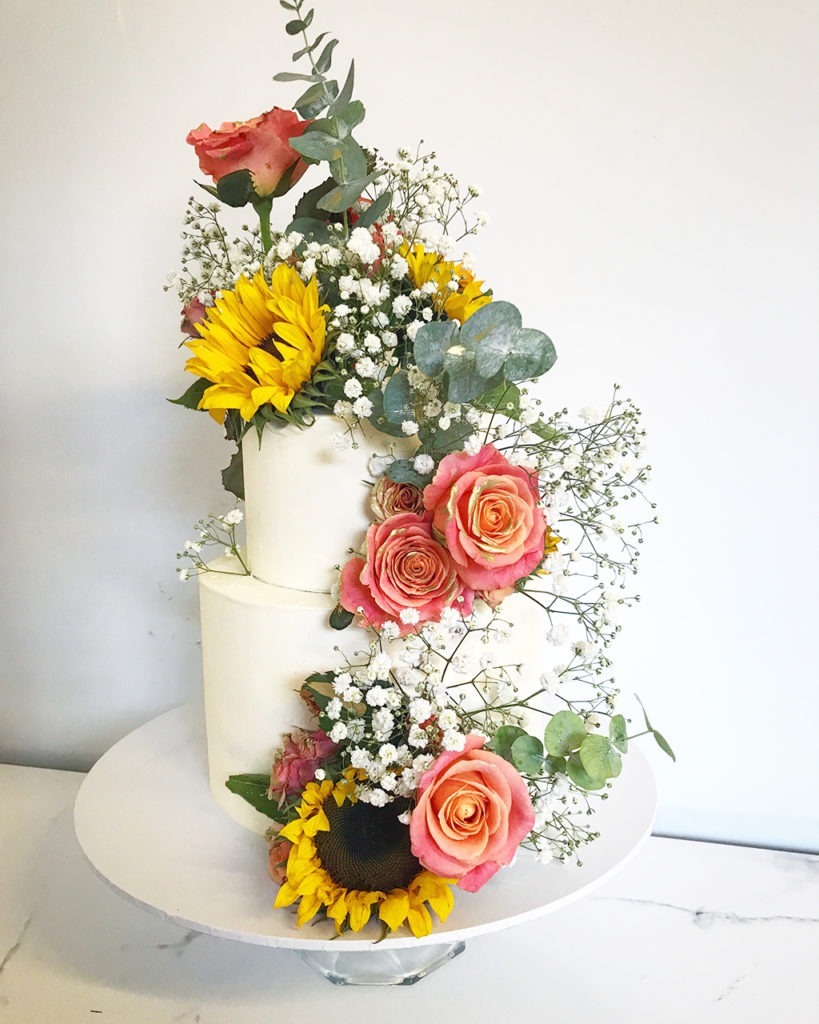 All of our premium cake prices reflect the following:
All our ingredients are locally, responsibly and ethically sourced and organic where possible.
I source my ingredients from small-batch local suppliers where possible and support independent and female-led businesses.
Any animal products are sourced from farms that ensure high animal welfare standards.
Premium flavours have the highest quality, seasonal ingredients and are tried and tested recipes. They are a labour of love.
Wedding cakes come with a design consultation and a fully personal service. You will get an initial consultation, unique cake design, cake sketches and I will be available to make any changes you require (up to one month before your date).
Final Thoughts on choosing a wedding cake budget that is right for you
All my cakes, no matter what budget category, will be made using high-quality, seasonal ingredients with flavours from my premium wedding cake menu. All my tiered celebration cakes can of course be ordered as wedding cakes. Celebration cakes do not have the same level of detail in design and service offered as wedding cakes. This makes the ordering process more streamlined but there are fewer options for design and customisation. If you want to look at our tiered celebration cakes that have slightly less intricate flavours and designs please feel free to browse these options.
If you need to find a wedding cake on an even tighter budget you can of course order a celebration cake for your wedding. You can browse the celebration cake gallery and check out the celebration cake flavours or start an order for a celebration cake for collection here.
I hope that you found this wedding cake budget helpful. Please remember this is just a guide and I am happy to advise on specific budgets. I know that planning a wedding in these trying times is difficult but I am happy to discuss your options so please get in touch for a quote or with any questions.

Here are some informative blogs by other cake makers on their budget advice and budget considerations from wedding blogs: